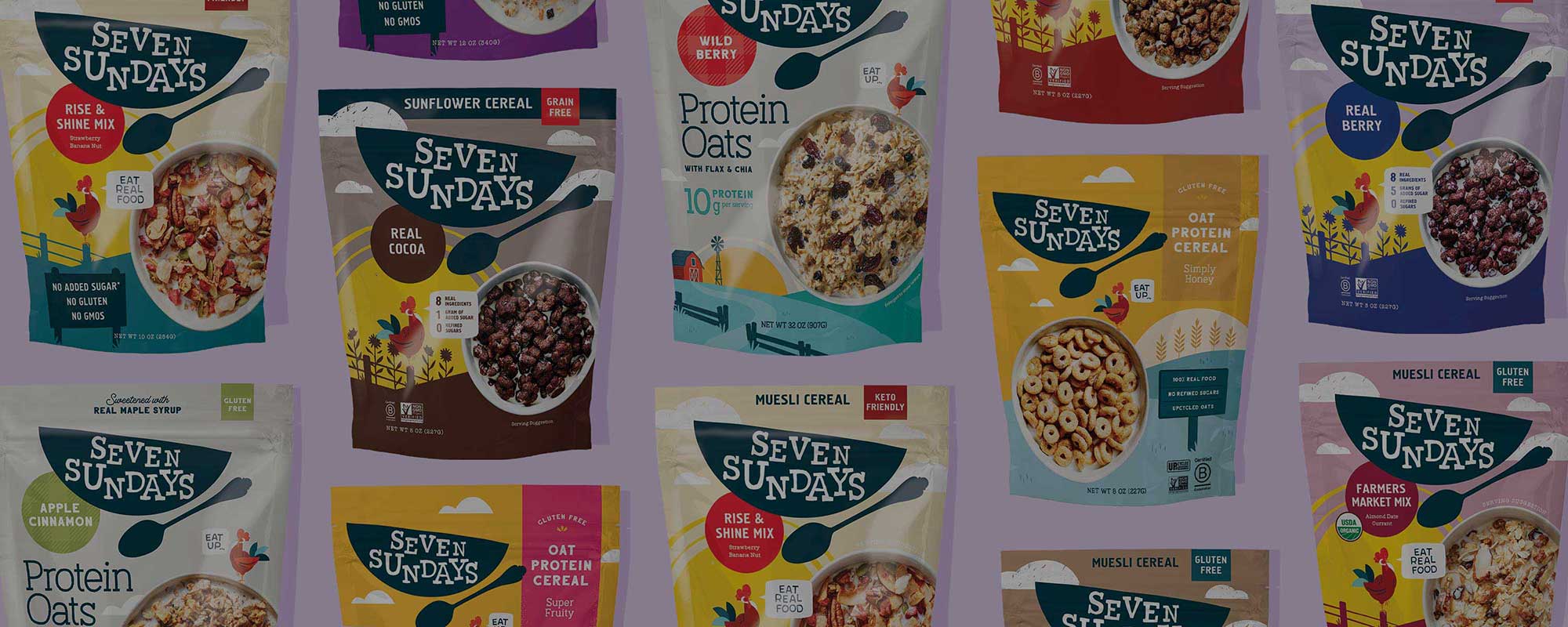 As always, please check your your package for the most accurate allergen information as our products are made at multiple facilities.
Peanuts are processed in the facility in a separate room from Seven Sundays products with dedicated staff and equipment. There are no peanuts present on our shared lines.
Seven Sundays products share lines with the following tree nuts: Almond, Brazil Nuts, Cashews, Coconut, Hazelnuts, Pecans, Pistachios, and Walnuts.
Our products are produced in a facility that does process dairy items, we do thorough allergen cleanses before and after each run.
Our products are produced in a facility that does process soy items such as soy lecithin; we do thorough allergen cleanses before and after each run.
In order to maintain a clean environment and reduce the chance of cross contamination, there are thorough sanitation procedures that take place between EVERY production run.
Yes, all our products are made with naturally gluten free ingredients! Our muesli products are also Certified Gluten Free by GFCO. Our Protein Oats, Oat Protein Cereal, and Sunflower Cereals use new-to-market upcycled protein ingredients which are naturally gluten free but not yet certified gluten free. Because we are repurposing the nutrient dense byproduct from oat milk and sunflower oil producers, we have less control over the original source of the oats and sunflower. We are able to confirm the raw oats have tested below 10 parts per million (ppm) gluten prior to oat milk production. We also do a final test for gluten in all of our products and test to the required level for gluten free labeling. If our product is labeled gluten free it was tested to below FDA required levels of 20 ppm. If you see a certified gluten free label on the product, gluten levels were tested to below 10 ppm.
Yes, our products are Kosher Certified by Orthodox Union Kosher certification service.
Yes, all our products are Non-GMO Project Verified!
Our Farmer's Market Mix is our first certified organic product. All of our remaining products are Non-GMO Project Verified and we are working toward purchasing more and more ingredients organically. Currently, our "conventional" mixes contain about 30-50% organic ingredients. We are currently working with several family farms who are in transition to becoming certified organic. 
Our farm-level focus right now is promoting soil health, drawing down carbon and preserving nutrient density through regenerative agriculture. We are working with the Soil Carbon Initiative (SCI) to transition our entire acre footprint to regenerative agriculture practices within the next 10 years.
Reach out to us at realpeople@sevensundays.com and we'd be happy to chat!